Since we were quite busy in the last weeks, here comes a report about the last month in Amarok. The main reason for this delay is the following:
We released Amarok 2.4 beta !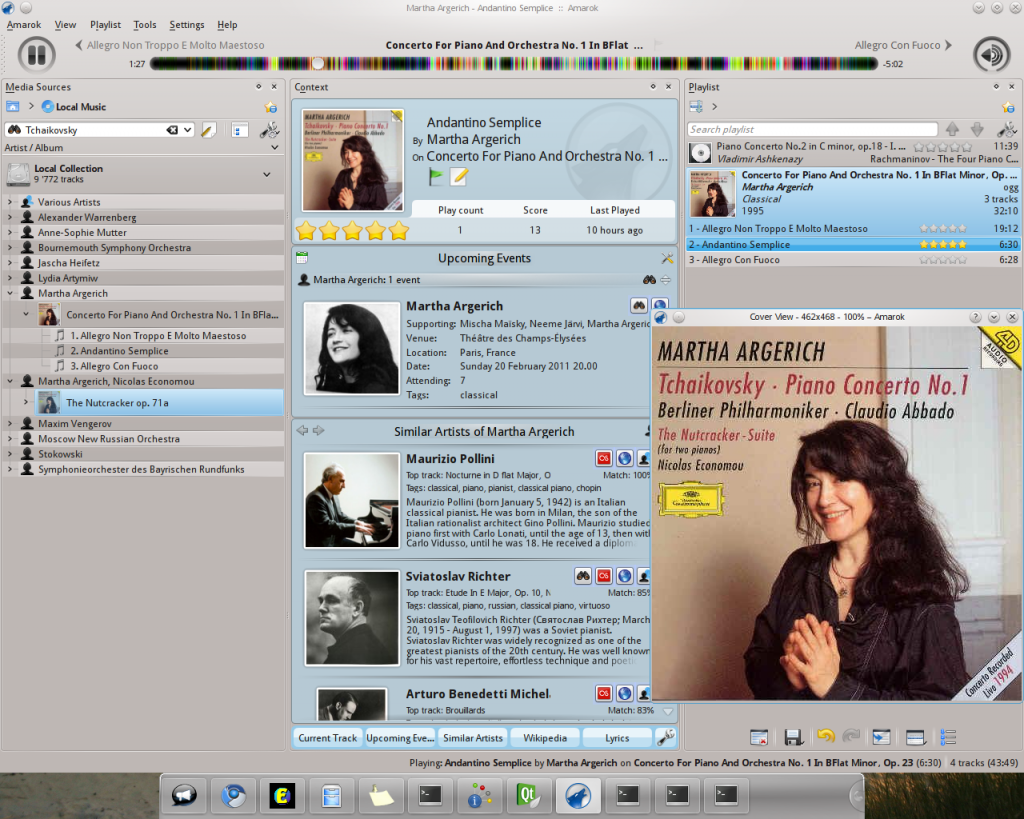 You can read all about the beta release here: Amarok 2.4 Beta 1 "Closer" Released
Please test it extensively and report the bugs and errors you find. Thank you already for helping to make Amarok 2.4 even better!
Transcoding is here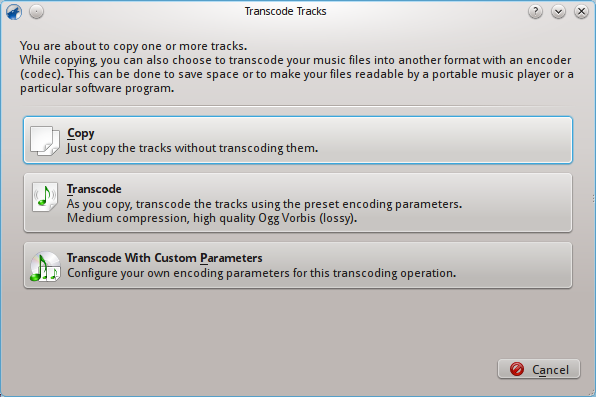 By Teo Mrnjavac: The long awaited music transcoding feature from this year's Google Summer of Code has finally been merged. Currently, transcoding between local tracks is supported with a variety of encoders, while transcoding to media devices is being postponed until we finish some major restructuring in the media devices stack. As the code is quite young it might be a bit buggy, so testing and bug reporting is strongly encouraged.
Google Code-in tasks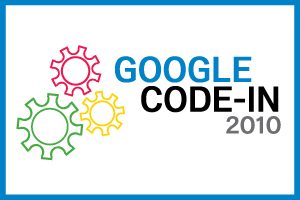 By Valorie Zimmermann: Our #rokymotion IRC channel has been humming 24 hours a day it seems, with all the Google Code-In students checking in. Tasks were written for an article for the next Amarok Insider, and many pages of the forth-coming Handbook. Since the Code-In continues until January, it seems like the students will help us even more in the coming month! So far, out of 20 tasks I've set, only three remain open for claiming, two are being done, and the rest finished successfully! This is a huge gain for Amarok, for KDE, and for the students also!
At the half-way point, this is what has been completed:
Pedro Oliveira Raimundo (pedromundo): an article about APG for the Insider, the Handbook page: AutomaticPlaylistGenerator;

Sasu Karttunen (skfin): Handbook pages for the CoverManager and SavedPlaylists;

Ivan Nakov: Handbook pages PlaylistFiltering, and Playlist;

Daniel Marth: Handbook pages SearchInCollection, and TagEditor;

Paul Ivan: Handbook page OrganizeCollection;

Salma Sultana: Handbook pages ScriptManager, and ViewMenu;

Caleb: Handbook page AmarokMenu; rfw: Handbook page Playlist.
A round of applause for their contributions to Amarok, to KDE, and to Free and Open Source Software!
Bugs and wishes

Over the last 4 weeks we had a more intense bug triaging, especially with the help of Ogynan Angelov and Samuel Brack who worked on the bug triaging task in KDE's Google Code-In during the last two weeks.
Overall we closed not less than 187 bugs: 73 bugs have been fixed, of which 22 were major bugs or crashes and we implemented 6 wishes. 8 reports were marked as invalid, 90 were duplicate reports and 9 were reports for bugs upstream. Thank you very much Ogynan and Samuel, you did a tremendous triaging work!