About Fellow No 1's life
My secret about the KDE multimedia meeting 2010
I'd like to tell you a secret of why in fact I organized the KDE multimedia meeting. It was completely egoistic. I just wanted stable versions of my preferred multimedia software. And the success is finally arriving. On the 31st of May Christoph Pfister released the long awaited 1.0 version of Kaffeine for KDE 4. Thx a lot for this. And k3b's Michał Małek released the 2.0 stable version some days ago as well. Thx a lot!
But this was just an introduction and not really the main topic of this blog post. It's about some statistics of the meeting. I did a questionnaire, which you can find here in pdf form. And 25 people completed it. The day before yesterday (when I started writing this blog post some weeks ago 😉 I put all the ratings, remarks and data into rkward (a KDE tool for statistics) but today they all disappeared :-(. I don't want to blame rkward because it's becoming a really great tool worth a look! Fortunately there were some plots but the rest was undiscoverable. Today I recollected the data in OpenOffice.org-Calc and here are the results of the Swiss jury (yes, I like the Eurovision Song Contest ;-).
The questionnaire consisted of a part about the person (sex, age, first time in Switzerland and group), a rating part and two last questions about the idea of another KDE group which could come to Randa and if they want to come back themselves. But first some general information about the meeting and the location.
We had 45 persons there which means developers, artists, organizers, bug fixers, etc. The house has a capacity of up to 100 people with something like 20 single rooms, 6 group bed rooms, 4 group rooms, one big group room under the roof, a chapel, two dining rooms, a club room, a chief office, 4 restrooms, a kitchen and some other infrastructural rooms. And there is a BBQ place outside surounded by a big green field.
Randa is located at approximately 1440 meters above sea level. We did a trip to Zermatt (1600 above sea level and 12 km away) walking back to Randa. And some of us even went up to the top of the Klein Matterhorn which is at 3883 meters above sea level.
From the 45 participants where 10 female and from the 25 questionnaire fillers were 6 female. In the picture below you see the age distribution.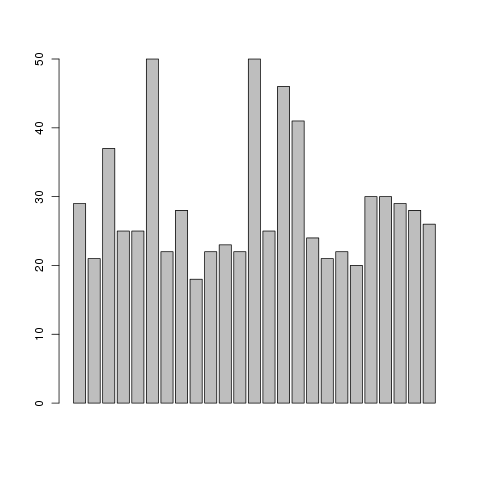 We served almost 500 meals during the 5 days (thanks a lot to the cook Hadrien Eggs who was on holiday and cooked for us the whole week) and spent 15 EUR or 10 CHF for the food and drinks (excluding beer 😉 per person per day. The alcohol drinkers at the meeting (i don't drink any) emptied 360 bottles of FreeBeer. The network helpers (thx Oliver Summermatter and Co) distributed several dozens of network cables and 6 or something wifi accesspoints.
We had more the 150 guest-nights in the house. And I hope (and think, because of the fresh mountain air 😉 most of the people slept well even tough the wooden floor of the old house was sometimes quite noisy (btw I slept in my families chalet nearby where the plasma meeting Tokamak3 happened ;-). But now back to the questionnaire and its results:
As 6 people are female who completed the questionnaire there must be 18 male people who completed it as well (one was missing ;-). Of the 25 people 11 were already in Switzerland and for 14 it was the first time. The average age was 29 years. The group distribution shows 8 people from amarok, 10 from the kdeedu team, 1 from the games team and the remaining 5 ticked off "multimedia general (other)". Now to the rating questions where I always indicate the average rating (scale: 0 = not good, 1= could be better, 2 = good and 3 = very good).
Accommodation: Bedrooms: 2.32
Accommodation: Group and meeting rooms: 2.417
Location (house) in general: 2.6
Location (area, geographically): 2.8
Food (Breakfast, lunch & dinner): 2.917
Transport/travelling to the meeting: 2.375
Infrastructure: Power: 2.28
Infrastructure: Network (cable): 2.318
Infrastructure: Network (wireless): 1.76
Information about the meeting beforehand: 2.36
Organization staff friendliness: 2.96
Organization staff competence: 3
So as you see most of the items are between "good" and "very good" except of the item about the wifi. As I heard and experienced wifi is always a bad point at conferences but nonetheless we'll do better next year. And yes there'll be probably a next years meeting. More information to come…
On the proposal and remarks site of the questionnaire we got some valuable information: "real coffee" was missing, we need a "more formal registration system" next year and the house was sometimes noisy where we can't fix a lot unfortunately. In the last question I asked if the people know of another KDE group which should have a meeting in Randa and the answers where between "yes", "no" and "Nepomuk (the same and all the others" ;-). All want to come back to Randa, nobody ticked off "no" ;-).
And to end this post and staying somehow in the row of all the other posts here on the planet: I'm not going to Akademy. But if everything worked out fine I've a proxy there for my vote at the KDE e.V. agm. And I'll read and watch everything that happens over there so write and capture a lot!
Oh an btw: I begin to love Blogilo! What a nice piece of furniture …ah… software.