Sunday, November 22nd, 2009
I know that this is mostly a personal post. But since 8 days now Jara is part of my life. She is not yet completely house-trained but we will succeed ;-).
And nonetheless here is some KDE related information. In May 2010 markey, mamarok and me will organize another KDE meeting in Randa. Topic? Multimedia! Interested? BTW: Randa is where the last Plasma meeting Tokamak3 happened…
And now back to Jara to see if she has to go outside. Below the picture you'll find some more words in German…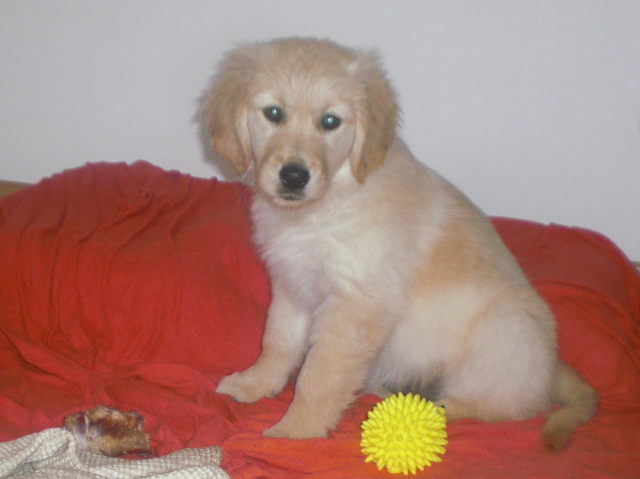 Hallo zusammen. Nun will ich noch ein paar mehr Worte in oder auf Deutsch verlieren.
Jara, meine kleine Golden-Retriever-Welpin, ist nun 8 Tage bei mir in der WG und sie hat sich schon recht gut eingelebt. Die Kabel lässt sie grösstenteils in Ruhe und gestern Abend musste sie zum ersten Mal im Wohnzimmer schlafen und nicht mehr bei mir im Zimmer. Sie hat ein wenig gebellt, geheult und an der Türe gekratzt und am Morgen hat man auch gesehen, dass sie noch nicht ganz stuben rein ist ;-). Allerdings waren scheinbar keine Kabel angeknabbert und meine Schuhe wurden von ihr auch nicht in ihr Bettchen verschleppt ;-).
Die erste Woche ist rum, die erste Welpenprägespielstunde auch und seit Samstag ist ihr Hunde-GA gültig. Nächste Woche läuft also was ;-). D.h. aber auch, dass sie sich ein wenig eingelebt hat und ab nun Besuch willkommen ist. Also, meldet euch bei mir, macht einen Termin aus und kommt zu Kaffee und Kuchen (den ihr natürlich mitbringen könnt 😉 vorbei.
Und nun zurück zu Jara, sie soll noch ein wenig ihre Zähne an meinen Fingern wetzen ;-)…