"Everything that is really great and inspiring is created by the individual who can labor in freedom." – Einstein 'Out of My Later Years,' 1950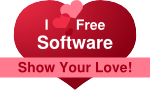 The Free in Free Software is about Freedom, not like in Free beer. But today might be the day you can combine both :
For Valentine's Day, or rather I love Free Software Day, you can invite a friend to a drink with you and talk to him/her about your favorite Free Software application !
If you prefer, join your love declaration to the numerous ones we've already received, adding the tag #ilovefs, blog about it, write to developpers to thank them…
In short, share the love you feel for Free Software, make people understand why you care so much.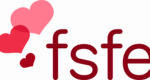 At FSFE, the whole website has turned red and pink just for the day, we've been tracking the best pieces of love declaration, the greatest pictures illustrating love for Free Software.
If you've not already stated your point, you've got until today, midnight to proclaim your feelings for Free Software ! Pick your Valentine(s) among the Free Software community, and show your love !
Freedom is for me one of the greatest goods a human being can have. Free Software aims at giving freedoms to the computer users. Many thanks to all the people working to make this possible. We love your work every day, today, we proclaim it:
I ♥ Free Software