The smallest unit of freedom: a Fellow
(Interview by Stian Rødven Eide)
In addition to being the friendly media face of Wikipedia Finland, the team contact for Ubuntu Finland and founder of local advocacy project Vapaa Suomi (Libre Finland), Timo Jyrinki has been involved as an active developer and translator for a wide range of Free Software organisations such as FSFE, Debian, GNOME and Openmoko. He has worked on computer graphics for much of his life, with a particular interest in human-computer interaction, and spends a lot of his current time making improvements to embedded systems. I had a lovely interview with Timo, in which he shared his thoughts on user interfaces, the Free Software situation in Finland and how businesses should let the community lead.
Stian Rødven Eide: Your involvement with GNU/Linux started while you were active in the demoscene, which was rather huge in Finland during the nineties. Were you already familiar with the philosophy of Free Software at that time? Was the culture of studying, sharing and improving each other's code relevant to the demoscene?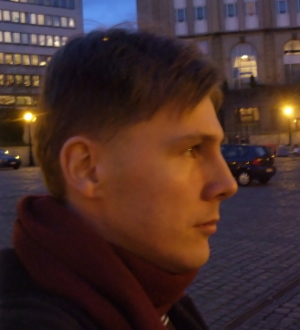 Timo Jyrinki
Timo Jyrinki: I don't think I was really familiar with the Free Software philosophy at all at that time, and not even for some time after starting to use GNU/Linux. The demoscene did have an atmosphere of improving on other's ideas, but actually seeing code was mostly totally out of the question, except for maybe some snippets. My real introduction to Free Software came from my involvement with Wikipedia.
SRE: Several of your projects have revolved around computer graphics. This is an area where Free Software traditionally has suffered from poor compatibility, due to a lack of support from hardware vendors and the complexity of creating new graphics drivers. With Intel and AMD finally working with the community to create Free Software drivers, things have started to change however. How do you view the current situation for Free Software graphics? Is the liberation process going well? What can be done to convince the remaining vendors to open their specifications?
Timo Jyrinki: I think the graphics liberation process is now going in a good direction, with shader support also included in the Intel DRI driver (and with Mesa 7.4.1 it actually works), which is very important to finally evolve beyond the fixed pipeline. It's a slow, but also broad development process, as is usual with Free Software. What I do see as a problem, however, is that the whole embedded / mobile sector seems to have mainly one vendor, which is completely proprietary so far, despite some small bits of information which have said otherwise. For example, over a year ago, Ubuntu Mobile mentioned that "soon" there would be a Free kernel DRM driver and DDX drivers, together with a closed DRI driver (which I guess could be reverse-engineered to an extent). Nothing has actually appeared as code as far as I know.
I think the best way to convince the rest would be to basically point to Intel/AMD/Via, and explain the real benefits that Free drivers bring. For example, developers would not be hindered by having to use the specific kernel or X server versions with which the binary drivers (available to some partners in a limited way) happen to work.
SRE: You have a Masters degree in Communications Engineering, with Cognitive Technology as your major subject. What are your thoughts about today's paradigm of computer user interfaces, and to what extent do you see Free Software taking the lead in this regard?
Timo Jyrinki: Touch and haptics are, in my opinion, the keywords that best describe where we are going at the moment. The non-touch interfaces continue to be used but they are, of course, already quite well investigated. I believe Multi-Pointer X & co. will lay out a good groundwork to rapidly innovate with Free Software, and haptics is relatively easy to add when it's needed. But to actually get something to innovate with, we would need, in addition to future touch/haptic laptop displays, more devices like Neo FreeRunner, which is still unique despite the emergence of phones running Android and similar systems. I'd also like to see more than just a little effort to think about redesigning GNOME/KDE application development environments to include support for small screens and big items that are manipulated by e.g. gestures. And finally, I wouldn't forget about using stylus for finer touch input – what are the differences between using a stylus and a mouse regarding how applications are designed?
SRE: Your studies have to a certain degree centred around telecommunications technology, culminating in your Master's thesis on the perception of vibration characteristics. Since then, you have been involved both professionally and as a community member in GNU/Linux smartphone projects like Maemo and Openmoko. Considering the increasing amount of embedded systems being based on Free Software, what do you see as the main obstacles to a fully free ecosystem for smartphones and similar devices?
Timo Jyrinki: With Neo FreeRunner available, I don't see, as a user, any major obstacles beyond Openmoko Inc's ability to manage itself and stay in business. I hope there will be more companies like Om Inc, and that people understand that what's being done around the Openmoko project (including FreeSmartphone.Org, Debian's FSO group, etc.) is benefiting every Free Software user once we start to have more (phone) devices that can be used purely by installing, for example Debian, on it. But, in reality, I think the amount of NDA's Openmoko has needed to sign has exceeded 50, which is kind of a lot, and therefore it would be good to have some documentation available on how to enter the hardware market with a Free device. And anything to do with radio frequencies or GSM is of course even harder. But for the software part, people can just start developing.
SRE: You now work for a Free Software company, Nomovok, which describes itself as a distributed organisation, modelled after community development methods. The company also tries to engage and give back to the community through projects such as mdeb. Do you feel that your community efforts have been successful for both parties? How should other technology companies proceed towards involving the community?
Timo Jyrinki: It is indeed the distributed organization that makes Nomovok stand out from the crowd. We don't have real offices for example, so people are free to work from anywhere. Regarding community efforts, Nomovok is not "there" yet despite former mdeb.org efforts, etcetera, which are in a need of better focus. It has proven hard to sell "contributing back" to customers as additional project work, as all work we do usually consists of projects for customers, so there is not much we do on our "own time". But it is improving, and some customers even demand it already. The biggest contributions have been made via our customers, who are taking the credit, which is perfectly fine and, I think, a way to also sell the contributions to the customer.
Companies should approach communities with a willingness to serve, and only to lead if no one else wants to do that. Sometimes it is hard to be allowed to say what one is doing, in which case it is also hard to get feedback if what's being done, and offered as a contribution, is a sensible thing to do in the project. We have a life cycle model that is presented to customers so that they would understand why contributing back is a key part of a major involvement in any Free Software project.
SRE: As an active Finnish translator and community member for FSFE, Ubuntu, GNOME and other projects, do you find that Free Software has a strong base in Finland, for instance in schools and libraries? Is the general awareness of Free Software noticeably present in local and national media?
Timo Jyrinki: I wouldn't say strong, we're too rich and clueless to actually benefit from the "country where Linux was developed" fame. It's not very bad either, but we have a very thick network of proprietary deals and people involved in a relatively small market, to the extent that I wouldn't currently bet on Finland leading in utilising Free Software. In recent news, there were plans to give a computer to every pupil in Finland, guess with which OS… not the one the country is known for.
On the brighter side, we have institutions like COSS (The Finnish Centre for Open Source Solutions) with 140+ company members, which bring Free Software to the business world as well as to the grass roots level. And on the grass roots level, Ubuntu is rocking harder in Finland than in many countries. Still, the masses need to be reached, and currently, it looks like attempts are being made to strike massive deals that that would prevent Free Software usage in schools and elsewhere. There are, however, many pioneering schools as well, who are doing huge cost savings, computer availability and teaching improvements using LTSP systems and such. But the scary thing is that it seems possible to do country-wide deals that undermine all these projects in Finland. We would need more politically active people. The common view among ourselves is that Finnish people quietly accept whatever is thrown at them.
SRE: In addition to your involvement in a range of Free Software projects, you also serve as the media contact for the Finnish Wikipedia. While involvement in Free Culture issues is a natural step for many Free Software advocates, it is not as often that it happens the other way around. How can we best help Free Software adoption among the millions of Wikipedia users?
Timo Jyrinki: By offering more Ogg Theora / Vorbis content on Wikimedia projects once Firefox 3.5 is released :). I think Wikipedia is already doing a lot to help Free Software adoption, simply because the ideals it's founded on are that of Free Software. The people who are active in Wikipedia will eventually find out about the benefits of these ideals, which also are the reason why Wikipedia is a lasting effort, and will make more informed choices because of that information.
Regarding casual readers, I don't think they learn much about Free Software from Wikipedia, but then again, even if only 0.1% of readers learn something, it's a huge amount in the case of Wikipedia. The biggest problem is the fact that English lacks the word libre, and I guess it's too non-common a word to actually use in the English Wikipedia as a loan word for the title of the site.
—
Many thanks to Timo for taking the time for this interview. More of his projects can be found on his homepage along with his CV and a nice collection of interesting links.