On March 31st we'll celebrate Document Freedom Day in our very specific manner again. FSFE's teams in Austria and Germany are going to give the famous DFD tarts as presents to two radio stations who release their documents according to Open Standards. Both stations provide their broadcasts for download as OGG-Vorbis. This audio format presents an Open Standard alternative to popular but proprietary mp3 format. Using OGG-Vorbis makes people become independent from specific players and vendors.
Ok, this is what FSFE teams do. But what can Fellows do and what do I do? As for my part I shot a photo of me in front of a well-known German radio station unfortunately providing its downloads only as mp3.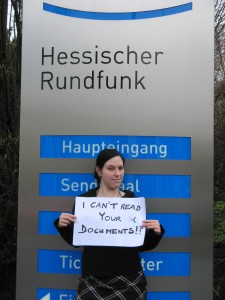 If you took DFD photos like this one or wrote a letter/e-mail to broadcasting stations or authorities to ask them about Open Standards, feel free to tell me about your experience by leaving a comment here. Did they react at all and if so what did they say?
There is many ways to make Open Standards visible to other people, either you tell them about it or you it to show them. But the best thing to start with is to use Open Standards yourself whenever you can.