This year's General Assembly was held in Bolzano, Italy, from June 18th to 20th. It was three days of intense discussions, sharing of thoughts and decision making about FSFE's future. Being a member of the GA for the first time it was a very intense experience for me.
For this year's GA in Bolzano/Bozen, South Tyrol, we started with a well-planned agenda. Karsten had put a lot of time and consideration into it and it seemed every issue needing some discussion and planning had been covered. However, we managed to crash this tight-scheduled timetable the very moment we took our places at the long table in the conference room.
Our Vision
Instead of a initial round of reports we started our first day by asking ourselves about our vision of FSFE. Is FSFE about changing the world? Is it about giving hackers a voice everyone can understand? Or is it about giving Free Software a voice and weight in politics and support political work for Free Software? Yes, it is.
Fellowship
Another important question to be discussed was the Fellowship. How can we make our community grow? How can we attract even more people to support Free Software and FSFE's work for it? So we drafted goals for the coming year. We can really use the help of more Fellows in general and in the country teams in spedific. Additionally, we have to face a new situation: Free Software has become more mainstream than ever before when only 'computer people' knew about the concept. But in a world where so many people use OpenOffice, OggVorbis or VLC we need to inform those users that they are already using Free Software in everyday life.
Bureaucracy
Apart from active discussions about our vision, goals and the future of the Fellowship the GA is a lot about bureaucracy, too. This means taking a look at the last 18 months' cash flow and expenses as well as approving next year's budget and endless reports.
Fellowship Meeting
As the head line of this post says, "work hard, play hard" was our motto of the weekend. On Saturday we had a nice Fellowship Meeting with many Italian Fellows. Some of them took considerable journeys just to get there which was very impressive. After hours of chatting and dicussion we did what has become some sort of tradition when FSFE people meet – we started a jam session in the basement of the hotel. This time we not only had Reinhard Müller's guitar and songbooks, but also the hotel's grand piano which proved to be way out of tune. Well, as the saying goes, you can't work with people you can't party with, can you?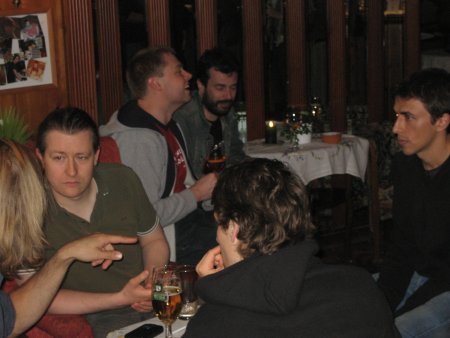 Fellowship Meeting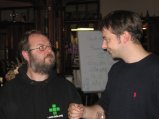 Fellowship Meeting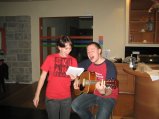 Fellowship Meeting: FSFE's notorious jam sessions – alway fun.

Fellowship Meeting: Reinhard, running right into the focus. That time still without the pigtails Nanda braided later. 😉
The End
All in all attending the GA is an experience I wouldn't miss even though only 9 out of 16 GA members made it to the meeting this year. It was fascinating to see that in the GA decisions are not based upon the best or strongest opinion, but upon finding consensus. Although this sometimes is goal hard to achieve. Working at the core of FSFE is really worth giving it a try and I'm sure whoever enters the GA in the position of the next Fellowship Representative in 2011 will be as welcome and appreciated as Torsten and me.