Last week we had our little get together with FSFE and KDE people.
That was planned as a local thing to just get to see each other (living in the same city and only meeting in different countries is weird). So to my surprise we had visitors from Karlsruhe, namely Sput of Quassel fame and Lydia (Amarok, and she's here more frequently) and Eckhart promo/marble from Augsburg. And us few locals of course, so we added up to nine in total. It was nice food and lots of talking from seven to midnight. Actually everyone was there a little before seven, except Lydia and me that is… oops, I take the blame

We took a looong walk from the city center to the restaurant. Don't trust me to find a place after I haven't been there for a year…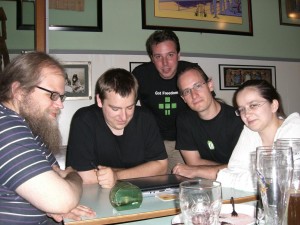 We tricked everyone into playing KSquares in memory of the Linux Tag. It is fun to play on the touch screens of the tablet PCs.
After this nice evening Eckart stayed a little longer so we kept talking for quite some time in the night and the next morning. Fun!
Now that was a week ago. Today Alejandro of Amarok fame arrived here coming over from Barcelona. Since we both craved being outside for a while we went for a walk in the near by forest to see the Bärenseen (bear lakes, no bear except the stone one that Alejandro spotted though) and sat there for something to drink. Tomorrow we'll go into town to see what Stuttgart has to offer.