Kolab Now was first launched January 2013 and we were anxious to find out: If someone offered a public cloud service for people that put their privacy and security first. A service that would not just re-sell someone else's platform with some added marketing, but did things right. Would there be a demand for it? Would people choose to pay with money instead of their privacy and data? These past two and a half years have provided a very clear answer. Demand for a secure and private collaboration platform has grown in ways we could have only hoped for.

To stay ahead of demand we have undertaken a significant upgrade to our hosted solution that will allow us to provide reliable service to our community of users both today and in the years to come. This is the most significant set of changes we've ever made to the service, which have been months in the making. We are very excited to unveil these improvements to the world as we complete the roll-out in the coming weeks.
From a revamped and simplified sign-up process to a more robust directory
service design, the improvements will be visible to new and existing users
alike. Everyone can look forward to a significantly more robustness and
reliable service, along with faster turnaround times on technical issues. We
have even managed to add some long-sought improvements many of you have been
asking for.
The road travelled
Assumptions are the root of all evil. Yet in the absence of knowledge of the future, sometimes informed assumptions need to be made. And sometimes the world just changes. It was February 2013 when MyKolab was launched into public beta.
Our expectation was that a public cloud service oriented on full business collaboration focusing on privacy and security would primarily attract small and medium enterprises between 10 and 200 users. Others would largely elect to use the available standard domains. So we expected most domains to be in the 30 users realm, and a handful of very large ones.
That had implications for the way the directory service was set up.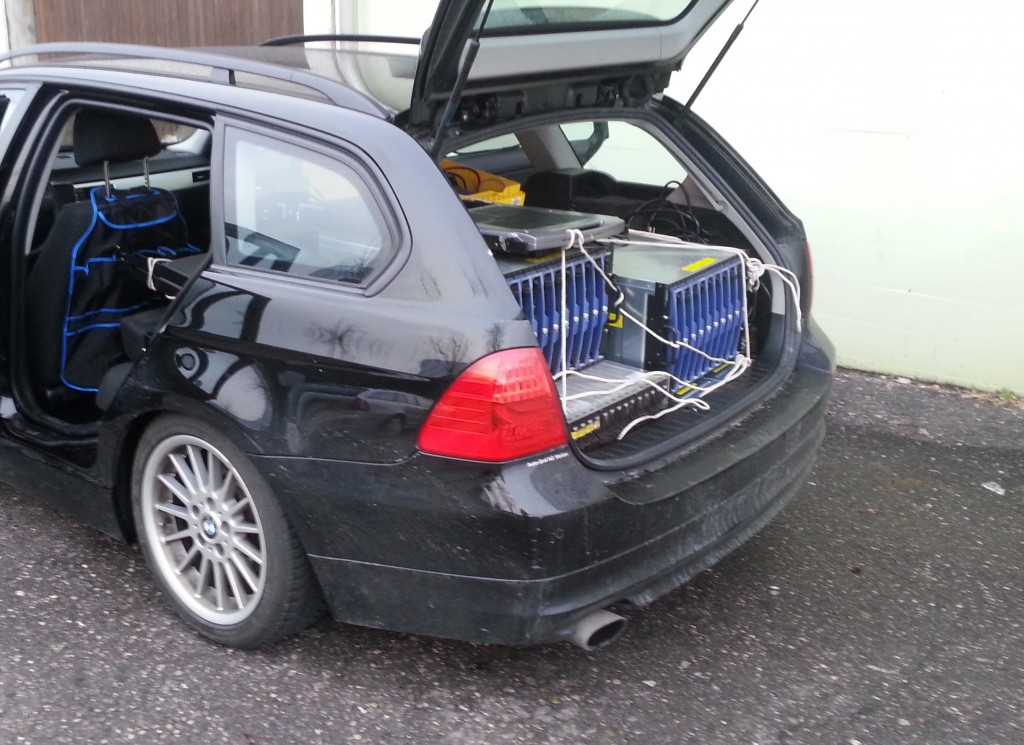 In order to provide the strongest possible insulation between tenants, each domain would exist in its own zone within the directory service. You can think of this as o dedicated installations on shared infrastructure instead of the single domain public clouds that are the default in most cases. Or, to use a slightly less technical analogies, between serial houses or apartments in a large apartment block.
So we expected some moderate growth for which we planned to deploy some older hardware to provide adequate redundancy and resource so there would be a steady show-case for how to deploy Kolab into the needs of Application and Internet Service Providers (ASP/ISP).
Literally on the very day when we carried that hardware into the data centre did Edward Snowden and his revelations become visible to the world. It is a common quip that assumptions and strategies usually do not outlive their contact with reality. Ours did not even make it that far.
After nice, steady growth during the early months, MyKolab.com took us on a wild ride.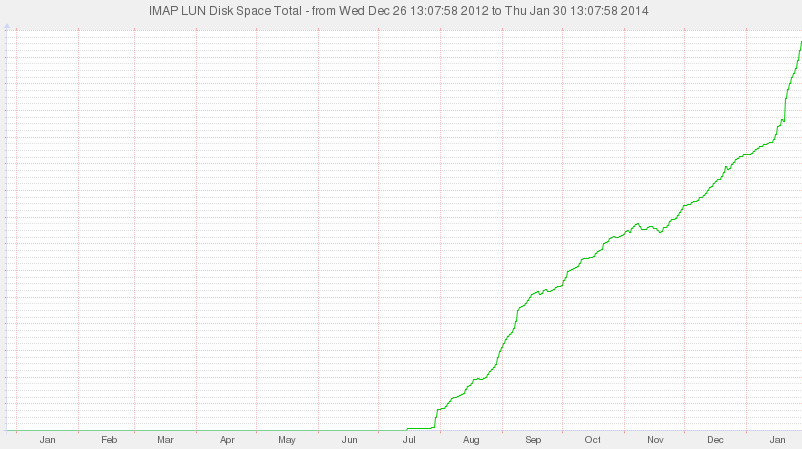 Our operations managed to work miracles with the old hardware in ways that often made me think this would be interesting learning material for future administrators. But efficiency only gets you so far.
Within a couple of months however we ended up replacing it in its entirety. And to the largest extent all of this was happening without disruption to the production systems. New hardware was installed, services switched over, old hardware removed, and our team also managed to add a couple of urgently sought features to Kolab and deploy them onto MyKolab.com as well.
What we did not manage to make time for is re-work the directory service in order to adjust some of the underlying assumptions to reality. Especially the number of domains in relation to the number of users ended up dramatically different from what we initially expected. The result of that is a situation where the directory service has become the bottleneck for the entire installation – with a complete restart easily taking in the realm of 45 minutes.
In addition, that degree of separation translated to more restrictions of sharing data with other users, sometimes to an extent that users felt this was lack of a feature, not a feature in and of itself.
Re-designing the directory service however carries implications for the entire service structure, including also the user self-administration software and much more. And you want to be able to deploy this within a reasonable time interval and ensure the service comes back up better than before for all users.
On the highway to future improvements
So there is the re-design, the adaptation of all components, the testing, the migration planning, the migration testing and ultimately also the actual roll-out of the changes. That's a lot of work. Most of which has been done by this point in time.
The last remaining piece of the puzzle was to increase hardware capacity in order to ensure there is enough reserve to build up an entire new installation next to existing production systems, and then switch over, confirm successful switching, and then ultimately retire the old setup.
That hardware has been installed last week.
So now the roll-out process will go through the stages and likely complete some time in September. That's also the time when we can finally start adding some features we've been holding back to ensure we can re-adjust our assumptions to the realities we encountered.
For all users of Kolab Now that means you can look forward to a much improved service resilience and robustness, along with even faster turnaround times on technical issues, and an autumn of added features, including some long-sought improvements many of you have been asking for.
Stay tuned.