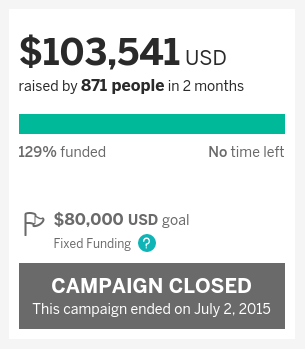 Bringing together an alliance that will liberate our future web and mobile collaboration was the most important motive behind our launching the Roundcube Next campaign at the 2015 Kolab Summit. This goal we reached fully.
There is now a group of some of the leading experts for messaging and collaboration in combination with service providers around the world that has embarked with us on this unique journey:
The second objective for the campaign was to get enough acceleration to be able to allow two, three people to focus on Roundcube Next over the coming year. That goal we reached partially. There is enough to get us started and go through the groundwork, but not enough for all the bells and whistles we would have loved to go for. To a large extent that's because we would have a lot of fantasy for bells and whistles.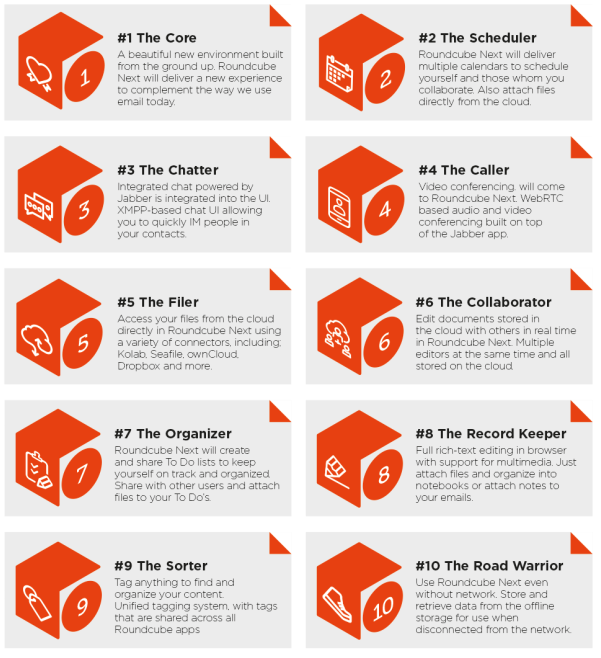 But perhaps it is a good thing that the campaign did not complete all the way into the stretch goals.
Since numbers are part of my responsibility, allow me to share some with you to give you a first-hand perspective of being inside an Indiegogo Campaign:
| | | |
| --- | --- | --- |
| Roundcube Next Campaign Amount | $103,541.00 | 100.00% |
| Indiegogo Cost | -$4,141.64 | 4.00% |
| PayPal Cost | -$4,301.17 | 4.15% |
| Remaining Amount | $95,098.19 | 91.85% |
So by the time the money was in our PayPal account, we are down 8.15%.
The reason for that is simple: Instead of transferring the complete amount in one transaction, which would have incurred only a single transaction fee, they transferred it individually per contribution. Which means PayPal gets to extract the per transaction fee. I assume the rationale behind this is that PayPal may have acted as the escrow service and would have credited users back in case the campaign goal had not been reached. Given our transactions were larger than average for crowd funding campaigns, the percentage for other campaigns is likely going to be higher. It would seem this can even go easily beyond the 5% that you see quoted on a variety of sites about crowd funding.
But it does not stop there. Indiegogo did not allow to run the campaign in Swiss Franc, and PayPal forces transfers into our primary currency, resulting in another fee for conversion. On the day the Roundcube Next Campaign funds were transferred to PayPal, XE.com lists the exchange rate as 0.9464749579 CHF per USD.
| | | | |
| --- | --- | --- | --- |
| | USD | CHF | % of total |
| Roundcube Next Campaign Amount | $103,541.00 | SFr. 97,998.96 | 100.00% |
| Remaining at PayPal | $95,098.19 | SFr. 90,008.06 | 91.85% |
| Final at bank in CHF | $92,783.23 | SFr. 87,817.00 | 89.61% |
So now we're at 10.39% in fees, of which 4% go to Indiegogo for their services. A total of 6.39% went to PayPal. Not to mention this is before any t-shirt is printed or shipped, and there is of course also cost involved in creating and running a campaign.
The $4,141.64 we paid to Indiegogo are not too bad, I guess. Although their service was shaky and their support non-existent. I don't think we ever got a response to our repeated support inquiries over a couple of weeks. And we experienced multiple downtimes of several hours which were particularly annoying during the critical final week of the campaign where we can be sure to have lost contributions.
PayPal's overhead was $6,616.27 – the equivalent of another Advisor to the Roundcube Next Campaign. That's almost 60% more than the cost for Indiegogo. Which seems excessive and is reminding me of one of Bertolt Brecht's more famous quotes.
But of course you also need to add the effort for the campaign itself, including preparation, running and perks. Considering that, I am no longer surprised that many of the campaigns I see appear to be marketing instruments to sell existing products that are about to be released, and less focused on innovation.
In any case, Roundcube Next is going to be all about innovation. And Kolab Systems will continue contribute plenty of its own resources as we have been doing for Roundcube and Roundcube Next, including a world class Creative Director and UI/UX expert who is going to join us in a month from now.
We also remain open to others to come aboard.
The advisory group is starting to constitute itself now, and will be taking some decisions about requirements and underlying architecture. Development will then begin and continue up until well into next year. So there is time to engage even in the future. But many decisions will be made in the first months, and you can still be part of that as Advisor to Roundcube Next.
It's not too late to be part of the Next. Just drop a message to contact@kolabsystems.com.