Friday, March 10th, 2017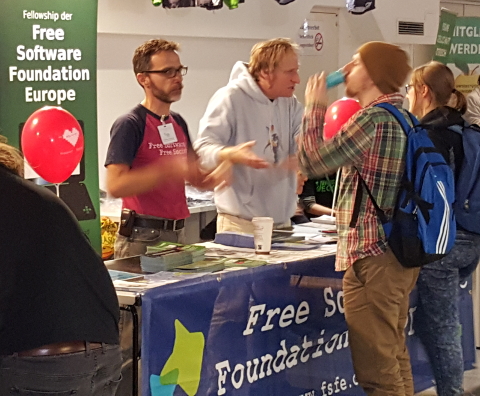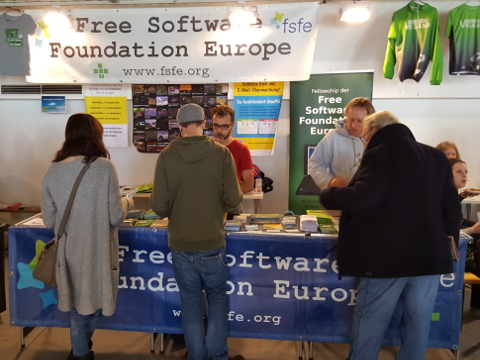 On the weekend of 24 to 26 February, the first indoor Veganmania festival took place at Wiener Stadthalle in Vienna. At the first celebration of the 20th anniversary of this yearly event (two more celebrations to come) we once again had a very successful booth. And it was even bigger than in the years before.
Our booth was placed directly opposite the entrance. Our neighbours where the vegan running team on the left and VGT, the most active animal rights/animal welfare organisation in Austria, on the right. Therefore we couldn't have asked for a better spot. A further advantage was the fact that this event was indoors. This way we could use our roll-up and many posters we normally can't use when we do booths outside.
Confirming our experience from previous years, we can only state once more that the Veganmania festivals are exceptionally good events for having FSFE booths. During the three days we only had rather short breaks from talking to people to take photos or to get something from the many stalls with delicious vegan food. On Friday we started at about 3pm and carried on until 10pm. On Saturday, the longest day, we started at about 10am and went round the clock to 10pm. Sunday was a little shorter again since we started at 10am but had packed up by about 6pm.
Since in past years the Veganmania always took place in a prominent shopping street we thought that most of our visitors where just there by chance. But this year showed that this is not the case as we were in a concert venue with no shoppers passing by. It can't be denied that Veganmanias really do attract thousands of people.
As usual we had plenty of opportunities to introduce the concept of free software to people who hadn't come across it before, and many showed serious interest. Our red I love free software baloons made kids happy until we didn't have any more left. Some people even decided to set up their home computers with free software a few days later. Of course we where happy to assist them with any questions or help they asked for.
Over the years we have become a well trained team of volunteers on our stall. For some strange reason we all seem to share the odd trait of not actually wanting to leave the stall for breaks. Therefore, most of the time we had at least 2, but often even 3 activists at once who where engaged in discussions with all kinds of people. I am very happy that Gregor and Martin supported me again. Without Gregor's bicycle trailer it would have been hard to get all material to the venue. Martin is an absolute treasure as I hardly gave him any warning. I called him the day of the event and he joined us almost immediately, not leaving the stall (during opening hours) until Sunday evening. Martin actually is someone I first met at our Veganmania information stall a few years ago. Since then he has become a very reliable, competent and always friendly backbone of our public outreach work. I can't thank my colleagues enough for their patience and commitment.
We were able to convince local activists from other organisations to bring us some leaflets to complete our rich assortment of information materials. We had stickers from the local Chaos Computer Club group and from epicenter.works, a very productive data protection association. On Friday I realised that we could really do with some additional leaflets that we had in the past but which had run out. So I updated these leaflets in the evening and went to a print shop on Saturday morning in order to have them for the rest of the weekend. Unfortunately we didn't get around to printing an other batch of our well received free games folder in time. But we will organize this soon. In time for the local Linux week's events and two further Veganmanias.
More
A few days later I realised that the local group System Change not Climate Change offers workshops called Skills 4 change. These include teaching people about Scribus, Inkscape and the GIMP. I went there and offered to do joint workshops going into more detail. Their original workshop didn't include much practical training due to the fact that they worked on theoretical design know-how at the beginning, giving introductions for all three programs on just one afternoon. I hope we will be able to do proper workshops with practical examples soon.
This is a good addition to the basic computer security workshops I've held at the VGT, mostly explaining why free software is the only way to go when aiming for trustworthy computer systems.