Saturday, February 15th, 2014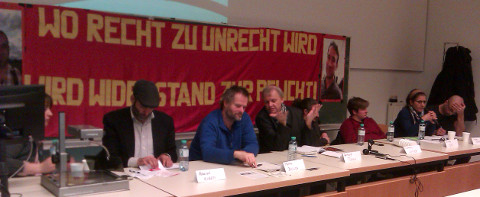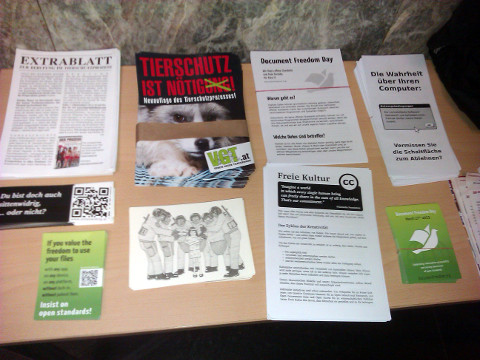 Today I visited a panel discussion on repression against civil political activists, mainly against refugees. From 3 to 6pm two lawers, a retired journalist and three activists spoke in the NIG building of the Viennese university about their experiences and how important public opinion/control is in political trials.
Journalists are often under pressure to present what advertising clients or media owners prefer. They are not only dependant on the funding of influential persons or institutions, but in many cases they themselves are even threatened with being put on trial if they dare to investigate or publish the truth about corruption or other abuses of power.
In Turkey there are more journalists in prison than in China or Iraq. Even lawers in Turkey face trial for nothing more than carrying out their regular work if they represent critics of the state. Refugees in Austria on the other hand, often have to cope for many years as applicants for a legal refugee status with only very basic rights and almost no opportunities. They are also under constant theat of being deported. In this situation it's vital to stay in control of what information is reaching third parties.
The case against 13 animal rights activists in Austria serves as a very good example of how important e-mail encryption can be. In the one year trial activists had to explain the meaning and context of parts of their private online conversations dating back over nearly two decades which had been deliberately taken out of context by the prosecution. Those who didn't use free software and e-mail encryption already, started to do so after this experience. And even after many years of painfully wasted time and expensive trial days it isn't over: They are accused of coercing fur selling companies into pulling out of the fur trade by announcing completely legal public awareness campaigns.
As a supporter of free software I instantly assumed this audiance would be perfect for learning about the advantages concerning independency and data protection by using free software. Unfortunately I only heard about this event the evening before. Therefore I couldn't contact the organisers beforehand and I had only limited information material available. Most of our leaflets have been spread in the past already.
Unfortunately the time schedule with so many people eager to present their perspectives was too tight. Under normal conditions I would have asked related questions in order to let people know about the special virtues of free software for political activists, but this time there was hardly any time for questions.
Our leaflets where available and on display right beside the exit door. So even if I didn't have the chance to tell people anything, they had the chance to easily pick up what ever leaflets caught their attention.