Sunday, June 26th, 2022
FSFE Information stand at Veganmania MQ 2022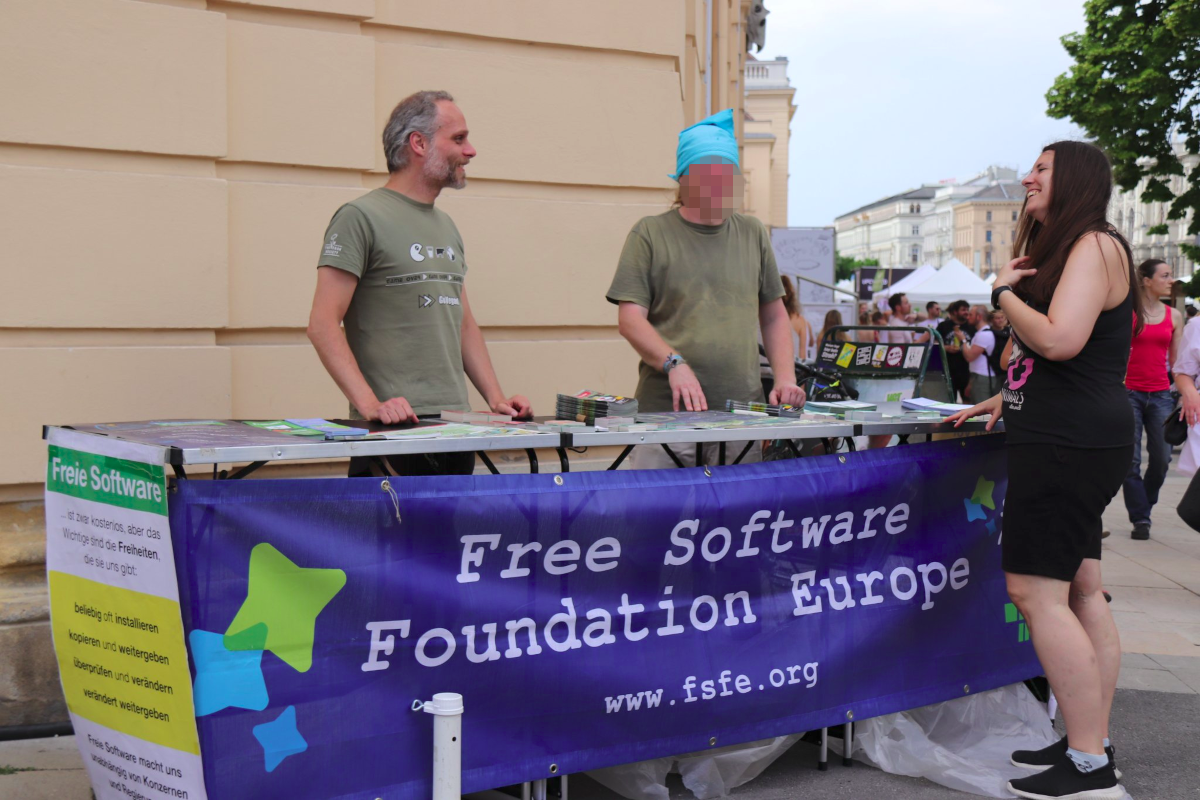 From 3rd to 6th June 2022 happened the Veganmania street festival at the Museumsquartier in Vienna. Despite not happening for two years due to the Corona pandemic this over the years has developed into the biggest vegan street event in Europe with tens of thousands visitors everey day. Of course there have been plenty of food stands with all kinds of climate and animal friendly delicious meals but the festival had also many stands for buying other stuff. In addition many NGO tents were there too to inform about important issues and their work.
Like already tradition for many years also the local volunteers group manned an FSFE information stand from Friday noon until Monday night. It was exhausting because only two volunteers manned the stand. But we both stayed there the whole time and the interest of so many people had confirmed once more how well we optimized our information material assortment without losing the ability to bring everything at once using just a bicycle.
The front of our stall was covered with a big FSFE banner while the sides are used for posters explaining the four freedoms and GnuPG email encryption. (We very soon need to replace our old posters with more durable water resistant paper since the old one has gotten rather worn down and doesn't look very sleek any more with all the tape pieces it is hold together.) In addition we use a small poster stand we built ourselves with just two wooden plates and a hinge. This was of left over material from a DIY center. Unfortunately this time we didn't have any wall behind us where we would have been allowed to put any posters or banners on.
Also our usual leaflet stack has proven to be very handy. Since most people talking to us are not yet familiar with free software the most important piece is probably our quick overview of 10 different free software distributions. It is just printed in black and white in a copy shop but on thick striking orange paper. This way of production is rather important because it is very easy and not to costly to quickly print out more if we need to. It also allows us to adapt it often for new developments because we don't have a big stack which might become outdated. Experience also shows that the generous layout with enough border space to write ad-hoc or very personalised links onto the matte paper comes in handy in almost all conversations. The thick paper it is printed on gives it also a much more valuable touch.
Less tech savvy people find a good first information in our local version of the Freedom leaflet which is basically RMS book Free Software, Free Society distilled into a leaflet. It combines this basic conceptual introduction using tools as comparison to software with some practical internet links to things like privacy friendly search engines, and a searchable free software catalogue.
Our leaflets Free Your Android and the one on GPG email encryption find much interest too. And of course many people like taking the There is no cloud … just other peoples computers and some other creative stickers with them. Our beautiful leaflet on free games attracts people too but this time after the event someone reported back that our link led him to kind of a Japanese porn page. After some back and fourth we discovered he tried to type a capital o instead of a zero in the link: play0ad.com. We did use this folder for years and he was the first to report back that the link didn't work for him. Unfortunately we still have many of those games leaflets. I suspect in future we should point out that the link contains a zero and no capital letter.
We also consider putting together a more detailed walk-through for installing free software on a computer and we often hinted people to check out different distributions by visiting distrotest.net.
Normally we don't even have time to get something to eat because we usually talk to people until after all other stands have closed up. But because we do not have a tent we needed to protect our material on two evenings from the storm in the night. So we closed up an hour early (about 9pm) and could still get some delicious snacks.
It has been a very busy and productive information stand with lots of constructive talks and we are looking forward to the next information stall on the Veganmania in August on the Danube island. Hopefully we have managed to renew our posters and information material by then.