Tuesday, August 27th, 2019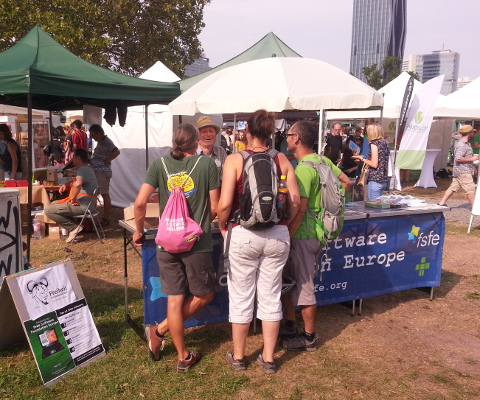 FSFE Information stall on Veganmania Donauinsel 2019
Once more free software activists from Vienna used the opportunity of the local vegan summer festival to inform about the possibility to increase our independence on computers and mobile devices. It was the second such event in Vienna this year. But unlike the first which was directly in the city center with loads of passers by this street festival took place in Viennas big recreation area on the island in the Danube river. It is rather close to the city center also and therefore many local people visit it in their spare time. The organisers estimated 9000 visitors per day.
The FSFE booth was manned there all the time from Saturday between 12:00 and 21:00 and Sunday from 10:00 to 19:00. It had a great spot far enough away from the stage with live music in order to allow undisturbed conversations and still close enough to the other 90 stalls with drinks, food, merchantise and a variety of stalls on other subjects like animal welfare, veganism sustainability, shelters and environmental protection.
Since it was an outdoor event on a meadow and because we don't own a tent we couldn't hang-up our posters. We just used our umbrella to not be exposed directly to the strong summer sun. And we had huge luck with the weather. Shortly after the festival was closed down on Saturday heavy rain started and it lasted until shortly before the event started again the next day.
Over the years we have collected a few regulars on our information stalls who normally drop by but again mostly totally new people frequented our FSFE information desk. Many of them had no prior knowledge what free software is about. Most of the time we were engaged in conversations with interested people and many explicitly thanked us for being there. We frequently explained why we man an FSFE information stall on a vegan summer festival: If you use the same ethical considerations that lead people to adopt a vegan life style in information technology you end up with free software.
A researcher explicitly came from an other county to the city because he wanted to visit our FSFE stall and talk to us about social implications of free software.
This weekend was an other very successful FSFE stall and we look forward to the next opportunity to man our information desk. We might even try to have stalls on other public events in the future which feature NGO information desks. At least if the fees are not unreasonably high.