Reports from the FSFE supporters group in Vienna
FSFE information stall on Animal Welfare Run in Vienna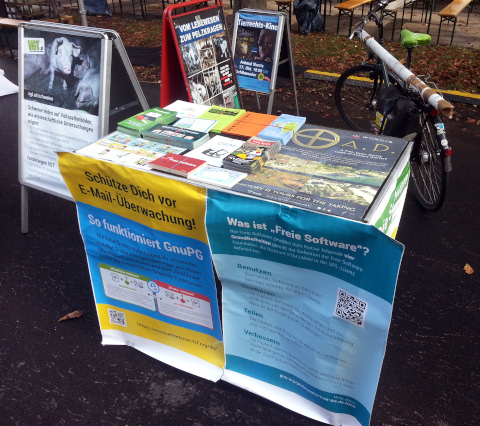 FSFE information stall on Tierschutzlauf 2019
At the 9th annual Tierschutzlauf (Animal Welfare Run) in Vienna on Sunday October 6 2019 the local FSFE supporters manned a little stall from about 9am to 4pm on Prater Hauptallee – a much visited recreation area in Vienna. The stall was little this time because we didn't get more space than just one folding table. Therefore, we couldn't use our banner. Instead we taped some posters around the table. This wasn't ideal since they didn't fit so well on the table because one of them would have been to narrow and two of them were to wide. But it worked rather well nevertheless. Many people stopped and read them when passing by. Often I could lure them closer to the stall by asking if I should tell them a little about the subject of the information stall.
Beside the runners registration tent and the changing tent, there were some delicious food tents. The other few information desks had animal welfare and veganism as their subject. So the FSFE desk was rather unexpected for many visitors. But since over 1000 runners participated and many brought friends and family there, the stand got a good amount of interest.
A few were active GNU/Linux users. Some had never heard of free software before and others had fleeting experiences with it many years ago. Especially the outlook on having software that they can trust seemed to motivate people to consider a closer look into it. Therefore, our introductory leaflets were taken with much interest. Many people wanted to free their Android phones and try email encryption. But as always, our distribution overview leaflet with an explanation on why open standards matter on the other side were very important. Of course the email self defense leaflets and the freedom leaflets were gladly taken too too.
In the morning I neglected to take the additional box with all the stickers but since we had only enough space for just one little folding table it wasn't that bad since it was full already anyway. We had to leave our original spot but found an even better position where the stand was more visible to passers-by anyway.
The picture doesn't show any people because we took it early in the morning right after setting up our table.
Unfortunately our posters were damaged when we removed them from the table in the end. So we should get a replacement soon. Since they have served us well for quite some years now despite being just made out of simple indoor paper that would get destroyed in rain anyway, we might get some prints on banner material to have something more durable.
Again the whole stand was transported using a normal bicycle this time even carrying the folding table when riding the bike since it was possible to hang it on the shoulder like a large bag. So it was a cheap and easy way to once more do some outreach work.