My Report from FSCONS '15
My daughter and me just arrived back from Gothenburg where we had attended FSCONS, the Free Society Conference and Nordic Summit.We went there to run FSFE's booth and enjoy the wonderful city.
It was a joyful weekend for the two of us. We arrived in Gothenburg on Thursday and spent the Friday at Alfons Åberg Kulturhus, a venue for children in Gothenburg dedicated to the fictional boy Alfons Åberg created by Gunilla Bergström. Alfons Åberg is known by other names in other languages, you might have heard of Willi Wiberg if you are german or Alfie Atkins if you grew up with english.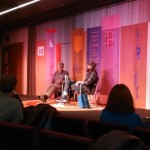 In the evening we went to Gothenburg's city library to hear a SciFi themed panel discussion with FSCONS' keynote speaker Ken MacLeod and meet people from FSCONS. My daughter already had fallen asleep when we did arrive so I was
able to get the full talk. Unfortunally (for us) this years Friday evening event was moved to an Irish Pub, but as i was told, some Volunteers already worked hard to make FSCONS happen. So we went to the Humanisten where FSCONS was going to happen and said Hej to  the hard-working volunteers.
Unfortunally I learned on Friday that FSFE's Guido was not able to reach Gothenburg because of the Lufthansa strike and that we further wouldn't be able to get the parcels with stuff sent to Sweden because of problems with the postal service. This was pretty disappointing, but things could have been worse…
On Saturday us FSFE people met at FSCONS. We hadn't met in person before but as it happens so often in this wonderful community we liked each other at first sight. We built our booth with flyers and stickers that had still been in Gothenburg from the previous year and. set up our FSFE banner, so it shined over the whole foyer.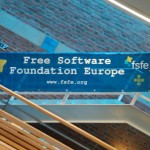 Despite we weren't able to do merchandising we had quite a lot of conversations with the people attending FSCONS. We told them about FSFE, our work or the Fellowship. My personal success story on Saturday was to introduce a woodwork teacher, who just hung around at the university, to the idea of Free Software.When he asked what was all the fuss about, I told him about FSCONS and Free Software. He was quite fascinated by the idea and came to the conclusion that it was a good thing. He mentioned, that beneath the freedom the no-cost aspect is important to the schools because they are quiet broke and can't spend money on licenses. They already use Free Software like Firefox and Libreoffice and now he also knows about the ethical and social concept behind it.
This year's FSCONS provided lunch but not dinner, so we family folks had to leave early to get the kids fed somewhere outside. When the both of us drove back to the hostel I discovered by accident Frihamnen, the probably worse tram stop in Gothenburg if being with a stroller. We had gone to far by one stop which brought us to the other side of the river. So we went out of the train but there was nothing but little rain, a fence between the tracks, a big street and stairs.We could do nothing but wait for the next tram, drive one more station and get on the opposite direction. We arrived at our hostel at about nine, the child fast asleep and me pretty tired. But all those late events did nothing to the otherwise great first day of FSCONS.
On Sunday my daughter was the only child left. But all the folks at FSCONS provided her with so much fun and warmth that she was very very happy. She entertained us with a live session of GCompris which also drove a lot of attention to the software. There was the funny situation when one person asked me for the name of the software. I said "Gcompris". He was a bit surprised and asked me if i was french. After we had resolved out our misunderstanding we discovered that he lives almost down the street from my home in Munich and so I invited him to our group's meetings. World's so small…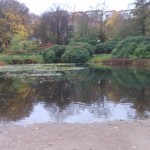 As you might have noticed by this point, i haven't written about any talks. They might have been interesting, but I wouldn't know because my four year old wasn't able to sit down for the necessary time and so we only were in two talks (Keynote and something about stable links) but had to get out early. Anyway, the weekend was great even spent mostly in the Foyer and a nearby playground. We had so much fun and a lot of old and new faces approached us more than once to get the latest news from the two of us.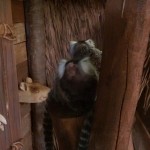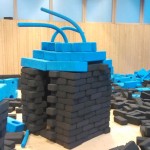 On Monday we we visited Universeum, Scandinavia's biggest science center. It is part zoo with rain forrest wildlife and playgrounds with experiments for children of all ages (including me).There have been apes that sat just an arm-length away, we build our own house with toy-bricks and made it collapse afterwards. When we discovered an open mic she sang all swedish child songs she knows, which made my heart totally jump in awe. 🙂
As all good things must come to an end finally we went back today. We are happy to be reunited with wife, son, mother and brother but are also sad because we left behind a beautiful city, great people and a wonderful weekend. But we will get back there for sure and next time use our combined charm to make the best merchandise that's possible.
Finally we want to thank wholeheartedly all the people  who made this weekend such a wonderful experience for us. You rock!!