Libre Android, libre knowledge
Take part in a Free Your Android workshop =√
"Did you get an Android?", most of you might think. Not  yet  (I might have to ask Santa Claus for one) but guided by the "everyday, something new" ideal, I went to the workshop that Torsten Grote organized last Saturday, during the Software Freedom Day to teach and help people to liberate an Android device.
Held annually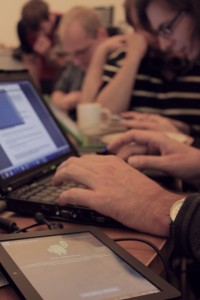 on the third Saturday of September, this day is celebrated worldwide with the aim to promote people awareness about the importance and benefits of Free Software. And, as I still finding my feet in the Free Software community, it was also a good excuse to check the BeLug headquarters, where the workshop was going to be held, among other events to advocate for the Software Freedom Day.
So, these are my conclusions after spending an afternoon (and evening) surrounded by men who were taking another step towards the freedom of their devices:
Cum laude workshop: the room was full and we achieve to free 8 devices. Besides, there were not only phones but also tablets.
A well documented and secure process: liberating your device is not difficult. It is very good documented online and if you do it with more people, there will be always someone willing to help you or that can give you a good advice. And it is easier as it seems. Of course, before it you should remember the "golden rule" (and that one I use to forget): always do a back up of all your data.
Securing your boot can make it even can work better: not only you will be controlling all your data but also your phone will work faster. Another plus to do it
Spending an afternoon with other free software advocates is really fruitful as you will learn new hints or you will just exchange information and knowledge. Anyone can go to any of these workshops to share a coffee and have an interesting chat. (And I guess women are more than welcome in a mainly man community).
The BeLug headquarters is a really nice place to stop by.
Last Saturday, I learned the FYA theory. Now, I am totally at the drop of a hat to check my practical skills. Any volunteer?