How the Netherlands group grew in Covid times
Before André and I became coordinators for the Netherlands, we used to have yearly community meetings at both the Dutch T-Dose and the Belgian FOSDEM conferences. In order to build the FSFE NL community, as new coordinators we started having a regular booth at the national Linux user group (NLLGG) that met bi-monthly in Utrecht, which is quite central in the Netherlands. The NLLGG has a large space for booths, so we could do our outreach alongside the various sessions and other booths that were going on. Via that regular booth, we had more frequent interactions with like-minded people, including the friends we had made over the years. Of course there were still people that were interested to stay in touch with the FSFE, but didn't want to travel half the country. At least we had email and chat as an option for those more distant relationships.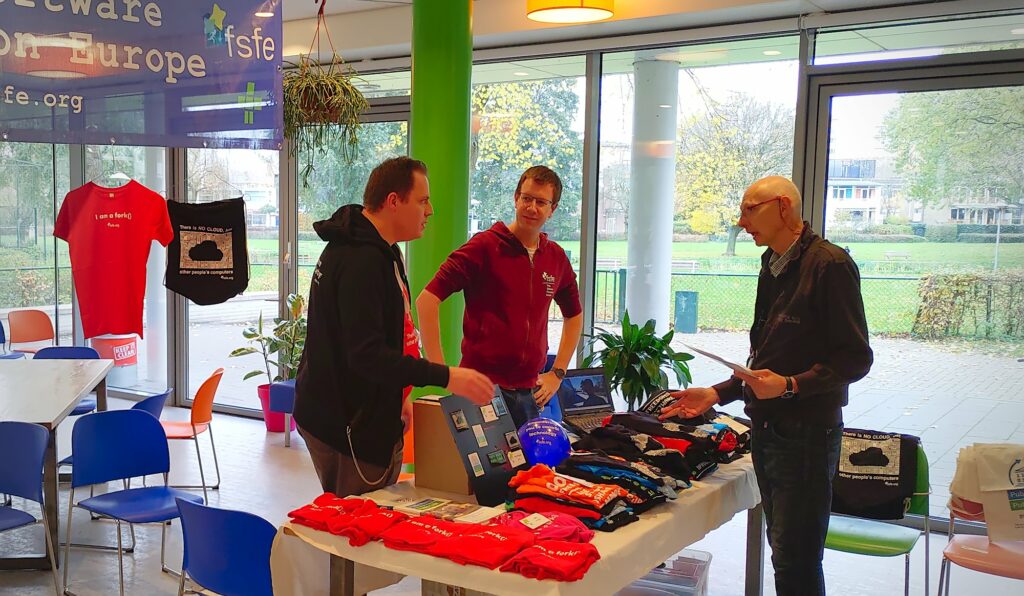 FSFE stand at NLLGG booth in Utrecht (NL) on 16th November 2019
And than Covid came to the Netherlands, and we were forced to change our ways. We could no longer meet at the physical NLLGG location. There was an online NLLGG session we joined, but as expected the main focus was on the Linux users there and not on our overlapping FSFE group. Eventually in the autumn we just tried our luck with an online session of our own. Luckily the FSFE had just launched their conference server based on BigBlueButton, so the required freedom-respecting infrastructure was already in place. We held our first meeting on the 28th of October 2020, which we announced on the FSFE website, on our XMPP group and on the Netherlands mailinglist (contact details on our BNL wiki page).
The first meeting was a bit rough. As can be expected with the hotchpotch of computer setups, there were various issues with audio and webcams. Still we had a nice meeting of about 1,5 hours to discuss various topics that were keeping our minds occupied. With everybody locked up at home, it was a welcome change to chat to the people with similar interest you would normally only meet by going to a conference or other community event. The format of the meeting was very much the same as at the booth, just to have a relaxed group conversation on free software related issues.
We kept on doing the online meetings by just scheduling another one at the end of the meeting. We recently had our 9th online get-together already. The attendance varies somewhere between the 5 and 9 persons. In the mean time we have settled on the 3rd Wednesday of the month, so it has be come a regular thing with a regular attendance. Every meeting is somewhat of a surprise, because you just don't know exactly what it will bring. Some new people might join, there might be some new and interesting subjects being tabled, and there could be a strong collaboration on an opportunity. The last meeting we started compiling a list of topics beforehand on an etherpad, so we can make an explicit decision which topics to spend time discussing.
We had one special occasion on the 25 of November 2020 when we had a sneak preview of the Dutch audio translation of the PMPC video. There was a larger attendance than usual, and Matthias was kind enough to join and speak some kind words about our local efforts.
In our meetings there is a lively discussion on current free software related topics, which helps to form opinions and perhaps even a plan of action. I like it when these discussions result in an idea of an action we could take from the FSFE perspective like reaching out to politicians or governmental organizations. The Dutch supporters have quite a bit of activism experience among them. Besides the general discussion plenty of day-to-day advice is shared how to maintain or increase your practical freedom.
The meetings are open to a wider audience, so if you are interested in attending, just sign up by emailing me and I'll send the meeting room details. The meetings are announced on the FSFE events page. We have successfully switched to English in multiple occasions to be inclusive to other nationalities, so language shouldn't be a problem. So maybe I'll see you there?