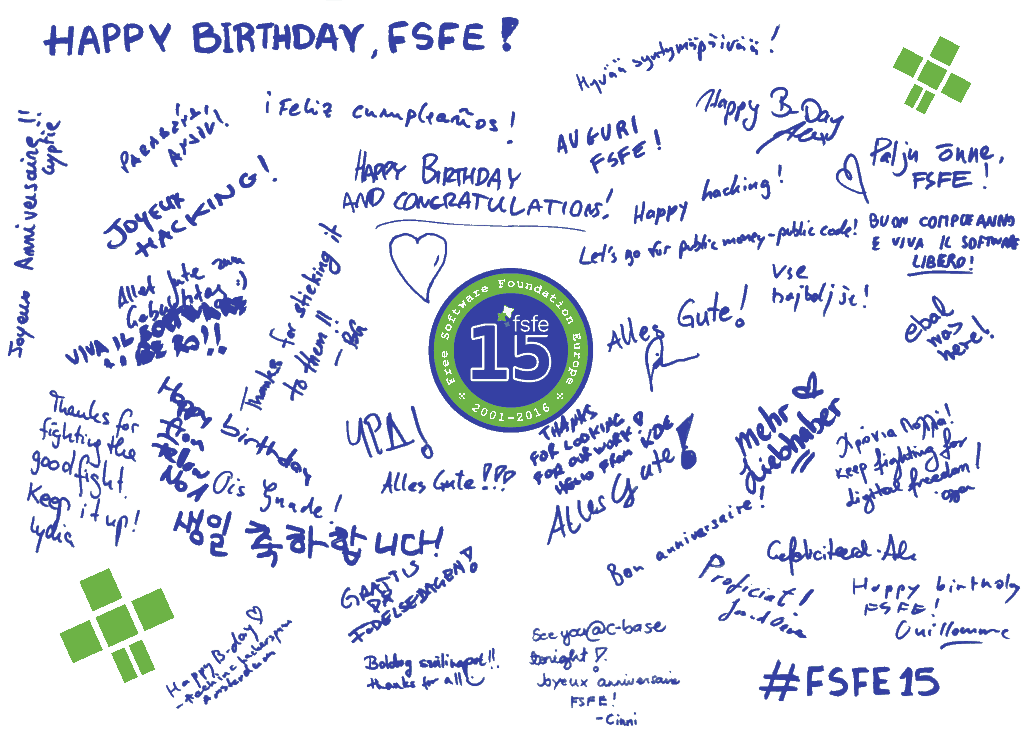 From September 2 through 4, the FSFE Summit 2016 took place at the BCC in Berlin, Germany. It was part of QtConand thus, multiple Free Software communities had the chance to meet and exchange ideas.
Just like at FOSDEM, a very important part for me was the social component at the summit. Meeting new people, talking to people I only know from mailing lists, seeing people again that I met at other events, and experiencing a sense of community that goes beyond what I can usually see at the local level, is a great experience and an amazing motivation to keep on going.
So when I arrived on Thursday, the first thing I did was join everyone from the FSFE office in Berlin for lunch. After that, I was allowed to work from the FSFE office a little bit to test a few more things for the blog migration. This is where I remembered that I had forgotten to sign up as a volunteer, but Cellini was kind enough to still let me do that and explain the basics of what to do.
Of course, I also saw some great talks at the summit. Cryptie and André gave a good overview of the new translation system that Julien set up and that is currently going through extensive testing by some translation teams.
There was a very interesting talk about the anthropology of Free Software. When I find the time, I study philosophy (usually just by myself) and it was really nice to be able to ask a question about transcendentalism (Kant and Fichte) and get the impression that not only the speaker understands the question, but also large parts of the audience. Not that a question needs an audience, but it is nice to know other people may have thought about similar ideas because that also strengthens the sense of community.
Christian, also a coordinator of the local group in Franconia, gave a talk about the Plussy booth attractor he designed and built and he had a chance to make one for the group in Frankfurt right after the summit.
The Plussy booth attractor was successful at the FSFE booth at the summit as well. Christian decided it would be nice to use it there and a lot of people came by to ask about it. Helping out at the booth was a really great experience as well. While I am not as good a salesman as some people with more experience (Cryptie), I immensely enjoyed talking to people and explaining Free Software and its terminology.
At the booth, i also found an upgrade for my Libreboot notebook: a wireless network card that supports both 5 GHz and 2.4 GHz from Tehnoetic.
In between the talks, the BCC served really amazing food that not only looked awesome, but was also incredibly delicious. That is why a small group of us sat together over lunch after the talk about women in Free Software and we discussed how our communities can be more inclusive and how some communities are already doing a good job at that, but others are not as successful. I found it very interesting that in some countries, women are in the majority in IT jobs and the reason behind that appears to be a combination of economic pressure and remnants of the communist idea that women are workers as well and need to be just as productive as men.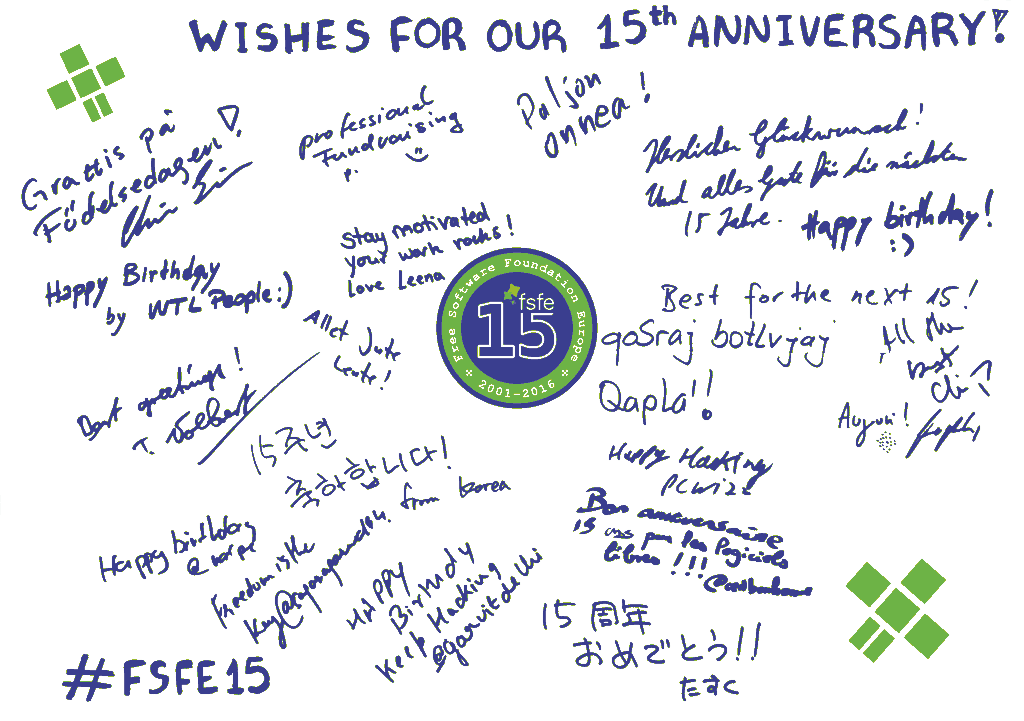 On Saturday, the FSFE celebrated it's 15th anniversary. There was an event at the BCC in which past and present presidents gave an overview of their work and shared personal experiences they had in the last 15 years. Jonas, the executive director of the FSFE also shared some interesting stories of his involvement. After that, we went on to C-Base for the actual celebration with food and drinks. Unfortunately, some people were missing from that celebration. I would have liked it very much if we could all have gotten together for this anniversary and celebrated our achievements. It would have been nice to talk to some of the people who insisted on having a local group in Franconia and speak about current developments in that regard. Sadly, that did not happen but perhaps we can meet again at another Free Software related event.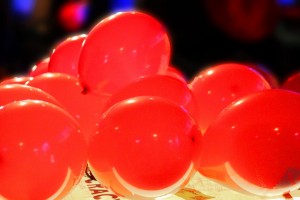 Also at the party, there was an award ceremony [careful, link to non-free video site] in which so-called local heroes were honored for their contribution. It was quite an illustrious crowd with Guido Arnold for his hard work on a local group and in the education team, André Ockers for translating huge chunks of the FSFE website to Dutch, Simon Wächter for his work in Switzerland in general and his specific involvement in the Freedomvote project, Cryptie for her translations and volunteering and numerous booths, and several more people who do important work for the FSFE. I was also part of that group and I felt very honored, but also a bit out of place because even though I know that this was a selection of volunteers because not everyone can be honored, I always feel like I should do more for Free Software than I can get around to. Sometimes, there are even weeks where I don't do anything and even when I am active, there is always someone else involved and there are very few instances where someone completes a task without help from others. That's what's nice about being part of a larger community and so I see this award as a thank you to the whole Free Software community and its many volunteers.
Speaking of volunteering: That was a great experience as well. On Friday, we received a short introduction on how to present guests and how to host a room. The instructions were helpful and from my perspective as a volunteer, everything went smoothly. Of course I know that this was just my impression and for example Cellini might tell you a different story because at any given event of a certain size, there will be some last-minute changes or someone who does not show up or a number of things like that. However, everything was handled perfectly and especially Cellini did a great job of handling it all with a smile. That is also what Erik said about organizing the summit together with her. I am sure the two of them must have been incredibly stressed at times, but they never showed it and their hard work made the summit a great success.
On Sunday night, after we had packed up the booth, we went out for dinner and drinks again, we complained about the terrible user interface of the ordering terminal at our table, and we generally had a lot of fun hanging out and sharing stories in a small group until the bar closed. Overall, I had a great time and as Cryptie put it, recharged my FSFE batteries. Now I am a bit sad that the party is over, but I guess that just makes me look forward more to a potential next summit. If we follow the advice of our communications officer Paul Brown, the next summit could be in a town such as Eberswalde which is close enough to a bigger city to make travel easy for everyone, but small enough that nothing ever happens there and so we would not compete with other events for press coverage. So with this idea in mind, let me say goodbye and see you next time, perhaps at an Eberswalde near you.