Augsburger Linux-Infotag: small in revenue, big in fun!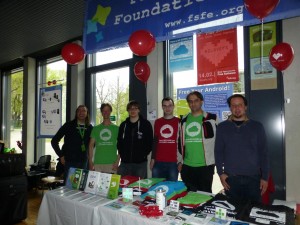 For the first time after a pause of several years, I allowed myself to enjoy my participation in FSFE's booth in Augsburg. With a remarkable team of 7 (!) volunteers, we presented a rich assortment of information material and FSFE's current merchandise. As we didn't have any new merchandise items compared to last year, we sold only six T-shirts, one bag and one pen. So one could ask: was it worth having a booth there at all?
Of course it was! We don't visit conferences for the money, we visit them for the people! And indeed, we had a lot of interesting discussions with visitors, it was great for us to meet the other volunteers at the booth (many of us hadn't met before), and we enjoyed talking to the people of our booth neighbour KDE and all the other projects present. What made the event a very special pleasure was our really large team, which allowed for all volunteers to attend talks, go for lunch or just take a break whenever they wanted, always being sure that others are there to hold the fort meanwhile. Personally, I enjoyed being part of this team, meeting smart and enthusiastic people, and having a lot of fun with them!