The classic and the newcomer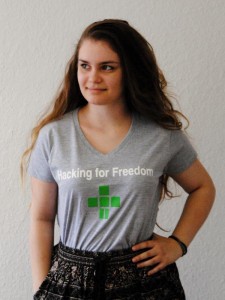 Believe it or not: it was more than 11 years ago, at FOSDEM 2005, that FSFE presented the first T-shirt with the slogan "Hacking for Freedom" – a slogan back then coined by FSFE's first intern, Matthias Kirschner. Matthias came to stay, and so did the slogan: "Hacking for Freedom" has become the most-selling T-shirt in FSFE's history, produced in numerous batches, and in a total of 5 versions: in 2008, we removed the white collar (on popular request), at around the same time we added a female cut version, some years later we switched all of our newly produced T-shirts to fair-trade and organic sources, and finally, in 2015, we added a grey female-cut one.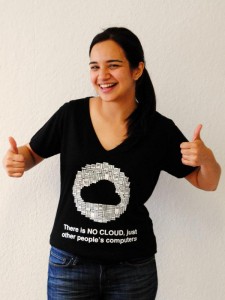 Exactly 10 years later, at FOSDEM 2015, FSFE introduced the first merchandise item with the slogan "There is NO CLOUD, just other people's computers". As there already were many different series of T-shirts being offered at that time, it was decided to print the new slogan on a bag. Ironically, the most heard feedback about that bag was: "I want that on a T-shirt"… So it didn't take long until the first T-shirts were procuced, and meanwhile you can order that slogan on FSFE's online order page in seven different variants: as unisex T-shirt in black, red, green, blue, and burgundy, as female cut T-shirt in black, and of course as the original bag.
"Hacking for Freedom" as the timeless classic, or "There is NO CLOUD" as the successful newcomer: get your favourite T-shirt online or at the next Free Software event in your area!