Home [ade] cookies
KOffice on OpenSolaris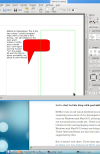 Inge Wallin recently blogged about the portability of KOffice — spurred on, no doubt, by the success of the port to the Nokia n900 and to Haiku. So he listed GNU/Linux, Mac OSX, Windows, FreeBSD (thanks, Inge, for checking), Haiku. That list is missing (Open)Solaris though, which as a UNIX flavor. ought to be a pretty simple target.
Of course, Solaris has been a primary target for OpenOffice for ages, so KOffice is a little late to the game on this particular platform. But I guess that's my fault, since I'm one of the packagers for KDE4 on Solaris, and I hadn't gotten around to it yet. So this weekend I spent a little under two hours hammering together a specfile (RPM-style) for koffice and getting the whole darn thing to build. Screenshot of KWord in action as proof. I tried KPresenter as well, but that crashed on changing the list style, so I didn't think that was a good demonstration.
Of course, no port is without its patches, so here they are:
So there you have it. Five tiny patches for a codebase of a little over 600000 lines of code. Nice. Tip of the hat (I have lots of hats, but all of them are baseball caps and I don't have a decent Stetson) to Inge and the KOffice folks for a nice portable office suite. You may be troubled, but your code is good.
Tags: office, patches, portability