Home [ade] cookies
Cookery (3)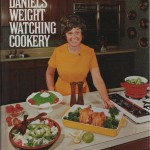 Some folks know that I used to be a fan of the Gallery of Regrettable Food — also a source of recipes to avoid and wonderful pictures. So while re-organizing my house and clearing out shelves, I found a wonderful item: Adelaide Daniels Weight Watching Cooking. The food itself is so-so, typical early '70s Canadian fare with plenty of evaporated milk and instant coffee and the inside illustrations are just boring. But the cover! So in the interest (questionable, I know) of saving the cover and pitching out the paper (to the recycle bin), I've scanned it. Click for full(er) size, 850kB; the scan is a little less vibrant than the original, and both the dithering in the original printing and the texture of the cover show up more in the scan than they do on the book itself. It's a bit of a shame, because the green glowing lime Jell-o pudding really leaps out at you.
Adelaide Daniels was founder of the Weight Watchers of Ontario, but doesn't seem to have left much of a biography on the net. The book itself is for sale from some "antique" book-sellers, listing USD 7.95 — maybe I should keep it and wait for it to appreciate more?
Not responsible for resulting queasyness, here's a recipe for my Jamaican friends.
Jamaican Orange: Fill a 6-ounce goblet 2/3 full of an orange-flavoured, low-calorie carbonated beverage. Add rum extract to taste, and ice to fill the glass. arnish with a lemon twist. Makes 1 serving.
Tags: cooking