Empire strikes back or SOPA in Russian style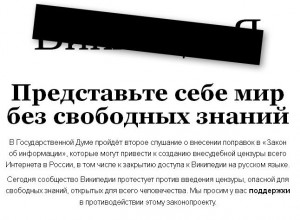 On the 10th of July Russian Sections of Wikipedia stopped its services for one day in the protest against proposed legal bill which can introduce censorship to Russian sector of internet. The protests were joined by Livejournal, biggest russian search engine Yandex as well as popular Russian social network vk, The bill hearing will take place in Russian parliament on the 11th of July.
 Position of Russian Wikipedia(In Russian)
Internet, as a mean of unrestricted and uncensored communication, has changed tactics in political struggle. Recent years have shown how it  can create threat to information monopoly of authoritarian regimes all over the world.
Maybe, you  have heard about protests against unfair elections in Russia this year. In the situation of almost total state monopoly on traditional media, such as TV, Radio and press, internet became sole possibility  for people to criticize the state authorities, share evidence of wide spread abuse of power and coordinate protests.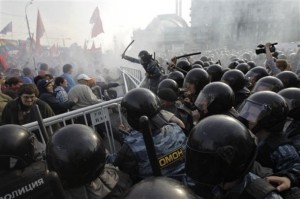 This year already became remarkable for the highest protest activity in Russia from the time of Soviet Union dissolution. You can read more about them here.
Famous bloggers, such as Alexey Navalny, became leaders of the protests, coordinating them through twitter, facebook and popular Russian social network vk.
As a result Russian officials became really worried about such extensive loophole in the new media "iron curtain". Their answer was old fashioned attempt of censorship under the disguise of children protection.
The new legal act introduces amendments to the current law which will establish system of filtering websites and black list of banned and blocked Internet resources.
General overview of the proposed amendments (In Russian)
According to the proposed act any Internet resource  can be put in the unitary register for the websites containing information forbidden for dissemination on the territory of Russian Federation,  which will result in immediate and instant deletion or restriction of the access to it.  The decision is made solely by state authority. Appellation of such a decision is possible only through state courts.
The definition of forbidden information is quite vague. Along with reasonable definition of forbidden content it includes such broad  categories  as: "any information forbidden for dissemination by Russian courts" and "information which can motivate children  to perform actions harmful  for their health".
Considering current level of democracy and state influence over the court system in Russia, such measures will probably result in further restrictions imposed on the freedom of speech and information. They can be aimed to further suppress protest activity.
Update. The Law was passed by Russian parliament with exclusion of "information which can motivate children to perform actions harmful for their health" category.