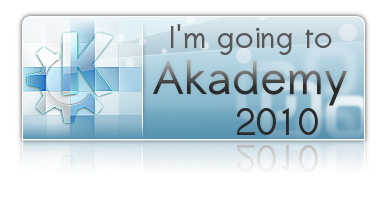 With the big show now only just over two weeks away I wanted to take the time to pimp the programme by talking about the tracks and the talks I am planning to see.
Community

Community is at the heart of KDE. This year it was particularly popular with many talks being submitted. As a result we managed to almost get a day-long track out of it. The track covers community management theory, technologies and legal issues. I'm looking forward to Thomas and Celeste's talks.

Mobile

You might have noticed… Mobile phones are becoming an important platform for KDE. Recently we have seen both KOffice and KDEPIM as well as other parts of KDE SC. I am looking forward to talks from Till Adam, Artur Duque de Souza and Alexis Menard

Development

Want you mind blown by the technical prowess of one of our gurus? This is the track for you! Watch out for Stephen Kelly's mind-bending Model/View testing experience.

Applications

Applications are, of course, the primary medium through which are users experience KDE. This track covers a wide spectrum of our applications, covering many KDE modules. Look out for Aleix's talk on KDE EDU and Dan's talk on games.

Cloud Computing

Ahhh… the cloud. One of those terms which has 1001 different meanings depending on who you are talking to. I'm attending Frank's talk; he'll bring some clarity in the form of ownCloud.

Platforms

KDE is not just restricted to Linux. Our software runs on many other platforms and we received many great submissions to reflect this. A dedicated track will help promote the cross-platform nature of our work. Sadly we could not accept a submission from gamaral, but you might want to go and see Casper's talk on Windows.
So this is what I am going to be seeing at Akademy. How about you? Later I will blog about the lightning talks and the keynotes.